Carnatic/Classical Music Services:
Violin Workshop (June - September 2006)
Conducted By: Sri. Mullaivasal G. Chandramouli
(Performing Artist, All India Radio Chennai A-Graded Artist)
Teacher Profile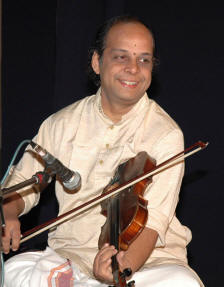 In a career spanning 2 decades, Mullaivasal G. Chandramouli, who hails from a picturesque village in Thanjavur Dist, has performed in over 2000 concerts, often accompanying great stalwarts or performing violin solo concerts across many continents.
Yuva Kala Bharathi, Violin Isai Vendhan, Maharajapuram Viswanatha Iyer trust and Viswapriya awardee, Grade-A artiste of both AIR and Doordarshan, Music Academy awardee ('Outstanding Young Violinist' for senior concerts), Chandramouli initially received training from Smt. Savithri Sathyamurthy, and thereafter was groomed under the tutelage of the veteran violinist (Late) Sri R.K.Venkatrama Sastry and Violin maestro Sri V.V.Subrahmanyam.

He was one of the founders of the YACM, and was Joint Secretary of SPIC-MACAY's Madras Chapter (1986 – 88).
Perfection in bowing technique, bringing out the melodic nuances with purity, and weaving intricate and dexterous laya patterns are his forte. This technocrat from IIT, Madras is also a committed music scholar and teacher who has spent many years researching fingering and bowing techniques and evolving a unique methodology that best exploits both the theory and practice of violin playing and the principles of Carnatic Vocal Music.

Copyright © 2004 saveca.ca All rights reserved
No part of this website may be reproduced without the explicit permission from Saveca